JOIN THE TINY SUMMIT ON
NOVEMBER 2-4, 2018
A SMALL GROUP OF DEDICATED FUTURE THINKERS EXPLORING IDEAS FOR ADDRESSING OUR BEAUTIFUL & COMPLEX FUTURE.
ABOUT THE TINY SUMMIT
The Lisbon Web Summit is huge where 60,000 people come to bust out many ideas about technology and the future but with so much going on it's hard to focus and connect. Our Tiny Summit on the CO Project Farm offers a counter experience with a small group of creative leaders connecting on some of our biggest future challenges.
Hosted by UNEP Champion of the Earth Dr. Leyla Acaroglu and curated to offer an incredible experience at our bran spa campus 1.5 hours from Lisbon in Central Portugal.
The Tiny summit will bring together a curated group of 12 passionate change-makers, rebielsiouse thinkers and creative doers to discuss how we can all activate a more positive future through challenges, provocations and conversation today.
Our CO Porject Farm is all about activating cretaive optimisum in our increasing overly negative world.
.
WHAT TO EXPECT
Our farm-based programs are a beautiful mix of intensive learning and recreational enjoyment. We have an incredible emerging creative space on the CO Project Farm that is being designed with sustainability and experience in mind. Set in the rolling hills of a central Portugal, you will be able to enjoy nature walks, freshwater river swimming, organic healthy vegetable-centric eating, relaxing spaces, and amazing local wine.
We have a natural swimming pool on site and a fantastic classroom for connecting and collaborating. Aside from the awe-inspiring setting, you will be learning the tools of the creative change-maker trade: multi-perspective thinking, complex systems identification, problem loving, hyper- reflexivity, and creative approaches to problem solving, along with cognitive, social, and sustainability sciences. In addition to the on-farm experience, you will get access to a pre and post workshop online learning pack designed to work through our core content at your own speed. But with any UnSchool program, expect the unexpected and a little bit of chaotic magic!
Dr. Leyla Acaroglu is recognized internationally as a leading expert in disruptive design, sustainability and education. Leyla has a PhD in disruptive design for social and environmental change. In addition to being a TED speaker, Leyla is a well seasoned and respected author, award winning designer, activator and educator. She started the award winning, multi-disciplinary design studio Eco Innovators in 2009, which has become a leading provider of unique educational resources for design thinking through sustainability. Leyla is the founder of The Un-School of Disruptive Design, pioneering social and environmental change by and through design. Her work spans across a variety of locations, fields and mediums. Leyla is driven by her strong desire to effect, create, and see positive pro-sustainability change in the world as a sustainability strategist, designer and social change agent.
THE SCHEDUAL
FRIDAY 2nd Novemeber
2-7pm arrival and settle in to your room.
8pm Group arrival dinner on the outdoor terrace
SATURDAY 3rd November
10-1: morning un-session
1-2pm lunch
2-4pm afternoon session
7pm Group dinner
8-10pm Evening fire-side dialogues
SUNDAY 4th November
10-1pm knoeldge activation session
1-2pm river side lunch
2-4pm closng session
depature or option extra nights stay
MONDAY 5TH NOVEMBER
Optional extra nights stay on Sunday so you can head to the Wed summit farm refreshed
THE Program
Dive deep into the future with complex thinking while enjoying your stay at our rural retreat facility in the 100 year old farm house or custom built gnome cabins in a 200 year old olive grove.
Over the 3 days we will explore some really complex topics and work in small and larger group dialogue and ideations essionsa round understanding leveraging change within them. There will be games, challenges, creative provocations and rebellious acts.
We will host 3 sessions per day with a loss agenda supported by the groups curation and collaborative engagement.
THE FOOD
Food is part of our philosophy for making change. Organic, fresh, locally produced, lovely prepared, shared and celebrated.
Our vegetable-centric approach to nourishment inspires creative, colourful and delicious shared meals for all.
Our custom built outdoor BBQ and pizza oven area uses traditional building techniques and run on scavenged wood from the grove. A marble prep table was found buried on the property and restored to use for this outdoor kitchen.
A long front area serves as communal outdoor dining space, along with various pockets for quiet meals by yourself, as you wish. Currently stone, we will be building out a large patio next to a natural swimming pool. The dining area looks out over the olive grove, a serene place to watch the sky turn pink as it sets.
All your meals at the retreat space are included in your program costs, and are often made right from our own vegetable garden along with local markets.
THE ACCOMMODATIONS
We have on site accommodation options as Phase 1 of our Portugal Campus development. When you sign up you select and pay for your accommodation based on your room preference and availability, the quicker you book the more options you will have! The guesthouse has 4 private rooms and 1 large shared bunkhouse, we also have an onsite triangle cabin for more adventurous visitors!
Our Farmhouse accommodations are comfortable and retain the original charm of the building. When booking you can select you accommodation option based on availability.
CHECK OUT WHAT GREENMAG HAD TO SAY ABOUT THE FARM PROJECT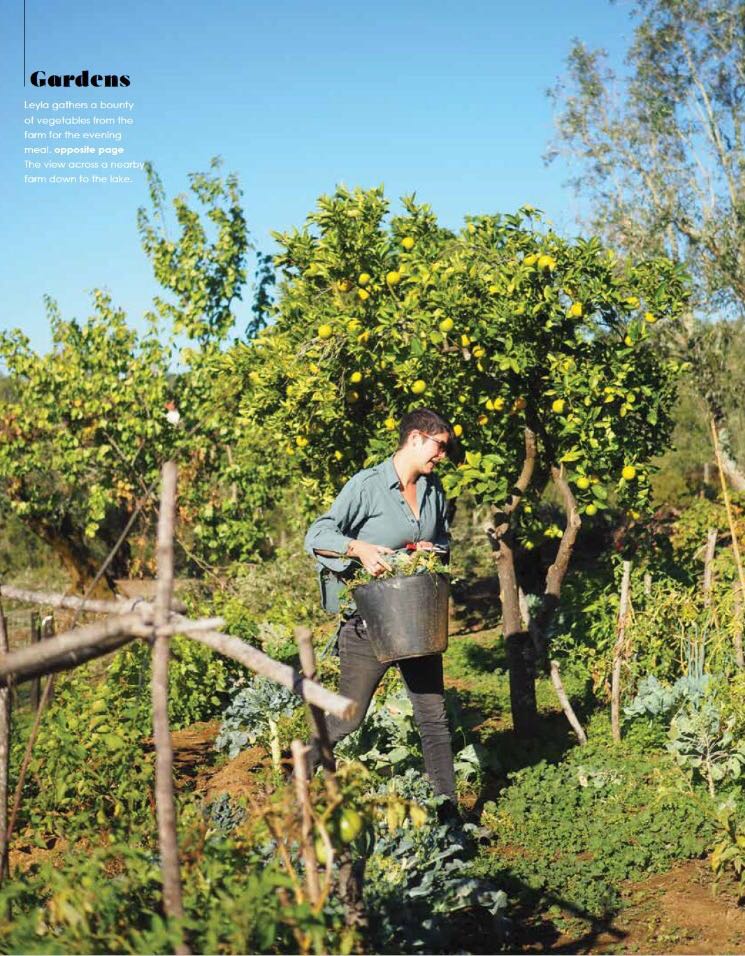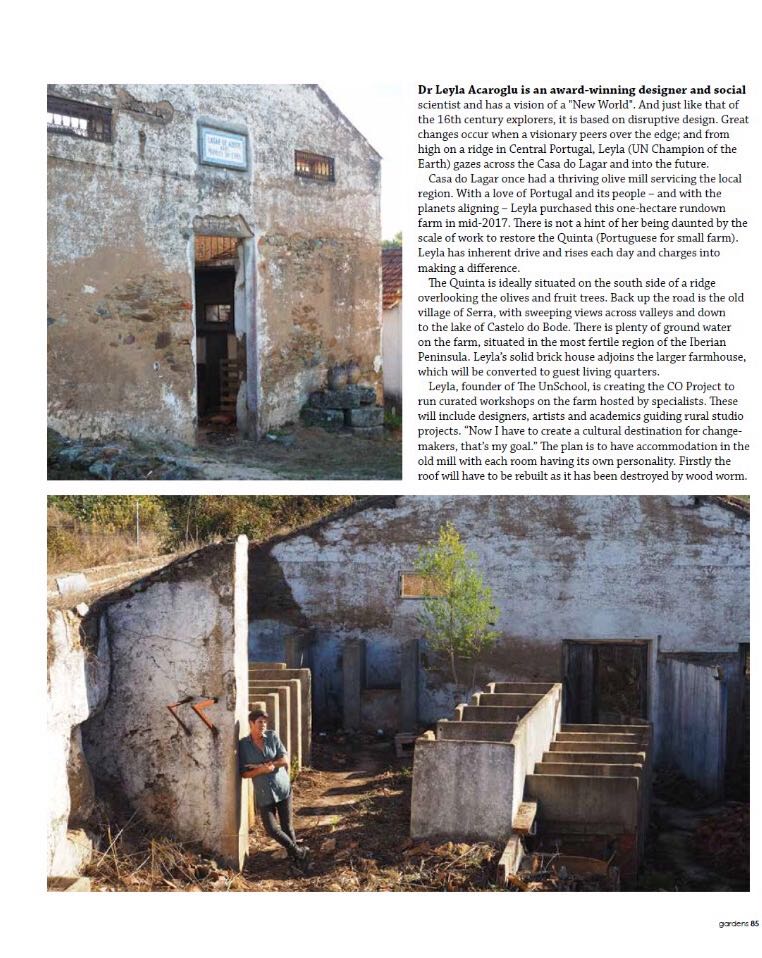 TINY SUMMIT INVESTMENT
The Tiny summit is 500 euros plus accommodation